"I've had this idea for years, but I don't know where to start."
"I know what I want to say, but I can't seem to get the words on the page."
"I'm writing, but I'm not sure it's any good."
Sound familiar?
As a writer, I've spent years wrestling with these and other (toxic) thoughts.
Yes, even me.
Are you ready to get over yourself?
I provide one-on-one support for novelists, memoirists and non-fiction writers, helping them:
Organize their thoughts

Develop their voice

Improve their writing style

Feel more confident about their work, and

Make and keep commitments to themselves and their writing.

---
Raves
Amalie Jahn
Author of the bestselling Clay Lion Series
"When I completed my first full-length manuscript, The Clay Lion, I knew I needed someone I could trust, not only to be the first set of eyes, but also someone who was going to be a fair evaluator of my work as well as a mentor, should I choose to seek publication.  When I considered my options, I knew Ann was the sort of person I wanted on my team.
I personally consider her something of a literary genius and had prior experience with her fair but no nonsense attitude.  With her encouragement, I was able to see to the successful publication of my book, which is now an award-winning, bestseller.  Without Ann's conviction that The Clay Lion was "good enough" and that I was "good enough," I may have never had the courage to successfully share my work with the world.  Partnering with her was one of the best decisions I've ever made."
Learn more about Amalie Jahn: Twitter | Facebook | Web | Amazon
---
How I Can Help
I meet writers where they are. Depending on what you're writing, I can help in a variety of ways. For example:
Novelists learn how to…
Develop memorable characters
Design a plot that will keep readers turning pages to the end
Write compelling dialogue
Memoirists learn how to…
Refine their voice and point of view
Organize events into a moving, memorable narrative
Figure out which experiences to include or omit from their memoirs
Non-Fiction writers learn how to…
Identify their main idea and flesh out supporting concepts
Organize their ideas into a cohesive outline
Identify any holes in their arguments and plug them
---
Raves
Michelle Belfie
Author of Good Fortune Daughters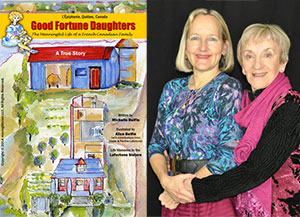 "My mother and I spent 10 years writing and illustrating Good Fortune Daughters, an ambitious 300+ page narrative telling the true story of my mother's French Canadian family, a cultural saga spanning wars, widowhood and women reaching up from the past to help others today. With a manuscript in hand and a passion to get it published, we knew we needed help taming the story's many voices and themes struggling to be heard. We also wanted to know honestly, was it any good?
That's when we turned to the genius of Ann Bevans. It's hard to imagine an area where Ann didn't help us! She offered brilliant improvements for big-picture pacing and momentum, a tightened writing style, the elimination of excessive foreshadowing, metaphors and pedantic themes and a new, moving approach for the prologue that was less trick and more truthful. Also, Ann gave us encouragement as our story made her smile, laugh and shed more than a few tears for the colorful Lafortune family of seven daughters.
No matter where you are on your writer's journey—just getting started or with a manuscript in hand—Ann Bevans just might be the best investment you ever make in your writing and your creative life. She was for us!"
Learn more about Michelle Belfie: Facebook | Instagram | Web
---
How it Works
It all starts with a free 30-minute discovery session. We'll use that time to talk about your vision and goals and to discuss projects you're currently working on. Together, we'll figure out if we're a good fit and how we could best structure our time together.
I offer 4-session packages. Sessions are conducted by Skype or phone. Each session lasts one hour.
While we're working together, you may be doing more writing than you're used to. And I will read every word.
FAIR WARNING: Sessions with me are an excuse-free zone. You can get someone to listen to your excuses for free. If you aren't willing to do the work, don't sign up.
---
Are You Ready?
Each four session package is $597 $297 (for a limited time!).
Sign up below for your free discovery session to learn more and decide if my approach is right for you. All fields are required.