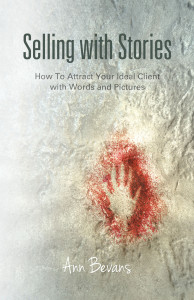 I'm very excited to announce that my new book has hit Amazon!  It's called Selling with Stories: How To Attract Your Ideal Client with Words and Pictures, and it promises to make marketing fun again!
What's your story? Someone asked me this question many years ago, and I've never forgotten it. In some ways, it drives me.
You see, every single thing you know about the world you learned through a story. So when we're trying to help our prospects see the value of our product or service, why not use that?
I could go on and on about the book – I'm so proud of it!  Please check it out in paperback or for the Kindle and let me know what you think! I would love it if you'd write a review on Amazon as well!
Thanks, everyone, for the amazing support! (And maybe now I'll actually have time to blog again!) 🙂